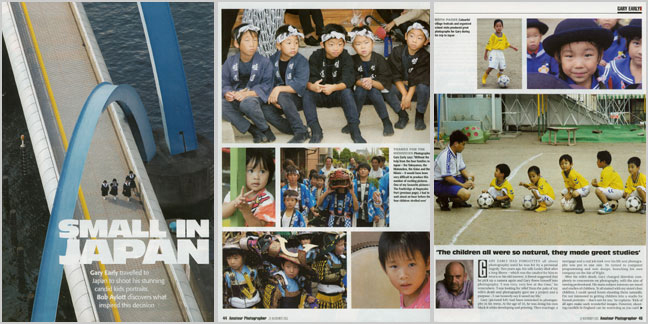 GARY EARLY HAD FORGOTTEN all about photography until he was hit by a personal tragedy. Two years ago. His wife Lesley died after a long illness which was the catalyst for him to return to his old interest. A friend suggested that he pick up a camera again and Gary threw himself into photography. I was very, very low at the time, he remembers. I was looking for relief from the pain of my wife's death and photography gave me a project and a purpose I can honestly say it saved my life.
Gary had been interested in photography in his teens. At the age of 18, he was doing his own black & white developing and printing. Then marriage, a mortgage and a real job took over his life and photography was put to one side. He turned to computer programming and web design, launching his own company on the Isle of Wight.
After his wife's death, Gary changed direction completely to concentrate on photography, with the aim of turning professional. His main subject areas are travel and studies of children. It all started with my sister's four children. I could spend hours shooting them naturally. I'm not interested in getting children into a studio for formal portraits that's not for me, he explains. Kids of all ages make such wonderful images. However, shooting candids in England can be restricting as you can't really hang around outside schools, parks or beaches you would end up in the back of a police car within minutes, he laughs.
To overcome this problem and continue with his photography, Gary went on a two-month working holiday in Japan. He based himself in Bisai City on the mainland and moved around to Nagoya, Kuwana and Ikoma City. Staying with old friends and their families, he shot their children at home, at play and at their schools. Living a normal family life, he was able to see a side of Japan that was far away from the tourist traps. Furthermore, free of the stigmas and problems attached to candid child shots he'd come up against before, he was able to shoot freely.
Japan was like a breath of fresh air. The difference in attitudes was amazing, he says. There were never any problems - the parents and children were marvellous and at the end of the day it produces some great pictures. In some of the regions that I visited, many of the children had never seen a real live Westerner before and they were absolutely fascinated by my cameras. The kids were all so natural, they just made great studies.
In the two months Gary spent travelling around Japan, he shot more than 3,500 frames. All his pictures were taken on a Nikon D1X digital camera, with Nikkor lenses 18-35mm, 24-85mm, 50mm and an 80-400 VR lens. I picked this gear to give me the immediacy that I required. It allowed me to check shots and download to a notebook PC at the end of each day, he says. He used a 1GB microdrive which gave a maximum of 270 shots per card using Nikon RAW file format.
Gary's experience of Japan, its culture and attitudes towards photography made such an impression that he will be returning next year to shoot more candid kids. An online photo agency has taken 70 of my images for its library he says. There is a shortage of this type of work and they feel my pictures are of a high enough standard to be marketable.
Hopefully I can build on that. My ambition would be to be able to produce enough great candid kids pictures for a book.
Gary's plans to turn professional are certainly heading in the right direction. As a former computer programmer, he is developing his own website, which he says should be up and running by the end of this year. I have started to shoot homes and houses for a national estate agents sales brochures, he says. I'll soon be sharing a new studio in Newport with a fellow Isle of Wight photographer and concentrating on social photography and candids. Things are taking off. I'm the new kid on the block, but as long as I'm working in photography I'm a happy man.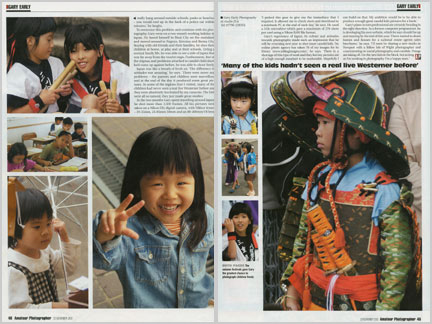 Bob Aylott  - AmateurPhotographer 23 November 2002